Here & Now Series: "Keeping it Unreal": Music for piano, theremin, and Haken Continuum
November 19, 2021 at 7:00 pm
All audience members, staff, and performers must provide proof of full vaccination status–at least 14 days from the final dose of vaccine–at the door (CDC card–photo or copy is fine–or Excelsior Pass) and ID. 
Here & Now Series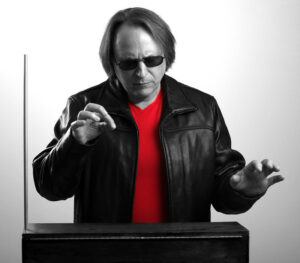 Rob Schwimmer  in TRIPLE HELIX
"Keeping it Unreal"
Music for Piano/Haken Continuum/Theremin
Welcome to my now re-continuing series of groundbreaking (or water breaking?) performances at Bargemusic! I'll be choosing selections from an A to Z list (from Harold Arlen to Alexander Zemlinsky-see list below) of possibilities. Selections will be announced from the stage.
"I love these 3 instruments! Hence the title Triple Helix…
Piano: What I love about the piano is obvious-It's an orchestra at your fingertips! Drawbacks: Once you've played a note you can only decide when to let go of it. Also no vibrato, sustain etc. (But this doesn't inhibit my love of playing the piano… Nevertheless they are facts.)
Theremin: The great thing about the theremin is that it gives you expressive phrasing! That means I can hold notes forever (don't worry; I won't), bend notes, add vibrato, and think about phrasing more like a singer than the piano allows. Strangely enough it feels like an acoustic instrument when playing: The immediacy and accuracy of what you're doing is reflected totally. That means if it sounds like bad, well, then you played bad-It's just doing exactly what you tell it to do. Drawbacks: It's really hard to play in tune (especially on a boat) and it's monophonic-Just one note at a time.
Haken Continuum: The Haken Continuum also feels like playing an acoustic instrument because of its incredibly precise hi-tech electronics and sensors. Nothing will replace the theremin but in a way you can do with one finger on the HC what it takes your whole body to do on the theremin. Then you look down and think, "Wow, I have 9 fingers left!" Yes, the Haken Continuum has the expressiveness of the theremin but adds back the polyphony/harmony that I would miss if I only played the theremin. The HC is a huge step forward in the evolution of electronic instruments and I love it! I think about the moment Leon Theremin thought "Let's make an instrument out of electricity"… I imagine that the Haken Continuum Fingerboard arose from a lightning flash moment like that one… There is magic here… A technological wonder and yet the technology is invisible in the service of expressive playing."
This performance may contain:
New (and old) Original Compositions and Improvisations for all 3 instruments
Theme and variations on standards, classics and soundtracks
A Healthy and/or Unhealthy Dose of Mystery
Selections will be announced from the stage
CONCERT MAY CONTAIN:
RS ORIGINALS
Or from A to Z such as…
ARLEN
JOHN BARRY
BEACH BOYS
BEATLES
BERG
CARLA BLEY
BORTKIEWICZ
BOWIE
CARLISLE FLOYD
CHOPIN
CLAPTON
ORNETTE COLEMAN
COLTRANE
COURAGE/RODENBERRY
ELLINGTON
FAURE
STEPHEN FOSTER
GENZMER
GERSHWIN
GUARALDI
GUETTEL
HARBURG/GORNEY
HARRY LUBIN
HENDRIX
HERRMANN
KERN
KORNGOLD
KURT WEILL
MANCINI
MANN
MESSIAEN
MINGUS
RANDY NEWMAN
OBUKHOV
ARVO PÄRT
PROKOFIEFF
RACHMANINOFF
RAVEL
RODGERS & HART
ROSZA
ROTA
RZEWSKI
SCRIABIN
PAUL SIMON
STRAVINSKY
STYNE
TCHAIKOWSKY
WAGNER
WAXMAN
WOLF
YMA SUMAC
ZEMLINSKY
Rob Schwimmer, piano, theremin, and Haken Continuum
Tickets: $35