Notes from the Captain's Log
Dear Bargemusic Family,
 Welcome back aboard the Barge! Bargemusic is pleased to bring you concerts with social distancing beginning April 30, 2021.
In compliance with government regulations regarding Covid-19, all audience members, staff, and performers must pass a Covid screening questionnaire and contactless temperature check before entry to the Barge.
While on the Barge, face coverings must be worn at all times by patrons, staff, and performers, with the exception that artists may remove face coverings for the duration of the performance.
For staff members and performers, Bargemusic will also require proof of vaccination completed at least 14 days prior to the performance date or proof of negative Covid test (PCR or NAATs, performed within 72 hours of the performance start time; or antigen test performed within 6 hours of start time of the event). 
Weekend 1: New Sounds, New Series
Our new season begins with the new sounds of a Here and Now concert, with the supremely inventive Kathleen Supové at the piano (7pm on Friday April 30). The weekend will be devoted to the launch of a new Masterworks series of concerts, "Beethoven and Conversation," in which Jeffrey Swann will share his ever evolving perspectives on the piano sonatas, beginning with programs entitled "The Virtuoso" (Saturday May 1 at 6pm) and "A Glance at Italian Opera" (Sunday May 2 at 4pm).
Weekend 2: When Two Become One…
On Friday May 7 at 7pm, pianist/composer/improviser Dan Tepfer introduces a new project, Inventions / Reinventions. In this program, Tepfer plays all of Bach's Two-Part Inventions, while freely improvising new Inventions for major and minor keys not covered in Bach's original set.
On Sunday May 9 at 4pm, Artistic Director Mark Peskanov will be joined by the recent newlyweds, cellist Julian Schwarz and pianist Marika Bournaki, in a romantic program, "Friends and Family," featuring music of Brahms and Schumann and capped by Mendelssohn's beloved Trio in D minor. On Saturday May 8 at 6pm, Bournaki will perform a solo recital of Bach, Norris, Poulenc, and Schumann.
We've been trimming the ropes and swabbing the decks in anticipation of your return. This winter we repaired and repainted our roof, repaired and resealed our floors, benches, and stage, inspected and improved our fire prevention systems, and continued the routine maintenance that keeps the Barge cheerfully floating at its Fulton Landing mooring.
With very limited seating, these programs will feel like your very own semiprivate events! We are implementing hygienic practices as needed to make sure you can enjoy your Bargemusic concerts.
Together we've weathered rough seas in the past, and together we will continue our incredible musical journey.
With much gratitude and love,
Mark Peskanov and Everyone at Bargemusic
Bargemusic — New York City's floating concert hall
Moored in Brooklyn just under the Brooklyn Bridge, Bargemusic presents great music year-round. Walk across the gangplank of a renovated coffee barge into a "wonderfully intimate wood-paneled room with thrilling views of lower Manhattan and excellent acoustics." Experience why critics call Bargemusic "the perfect chamber-music hall" and why artists say it is "unlike any other place in the world to perform."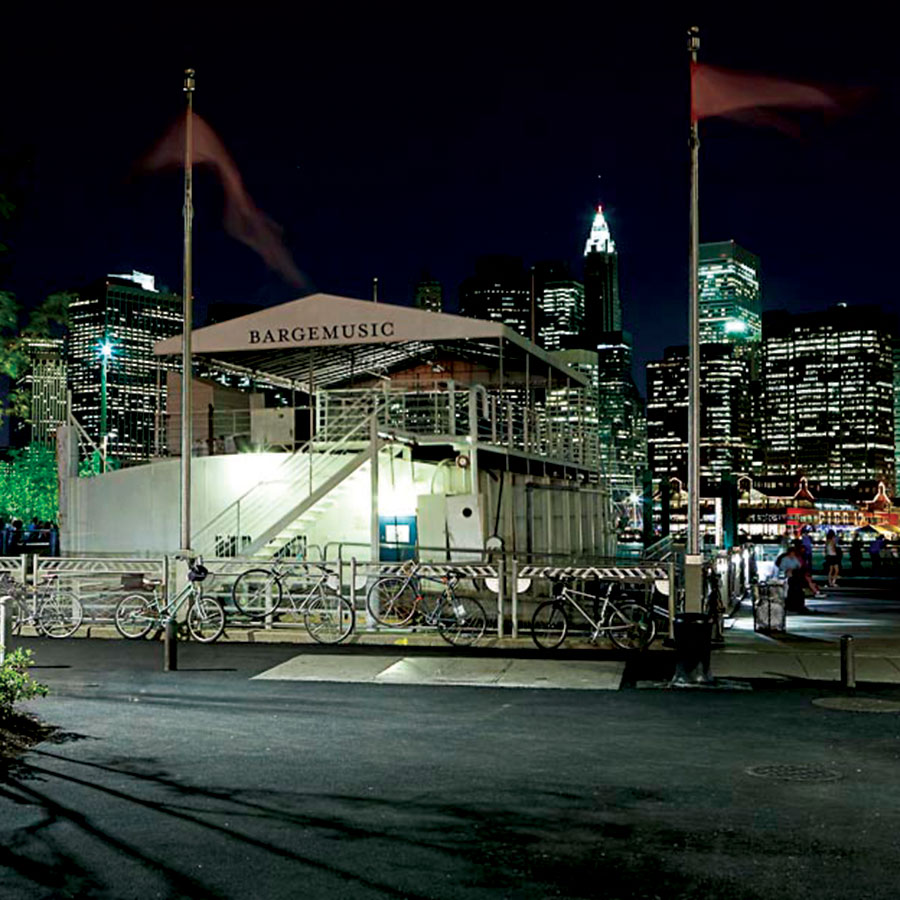 Upcoming concerts
Select a performance for program information and to buy tickets.